$400B between 2020 & 2030 says MIIT, $180B says SCMP. Morgan Stanley predicts, "We expect China Mobile's 5G capex to commence in 2019 with peak cycle in 2020-23. We project 5G capex of RMB 480 bn (US$70 bn, 14% of revenue) in 2019-23."
There is no longer any doubt that China will do a massive 5G build starting in 2019 or 2020, as soon as the equipment is ready. China's real 5G is likely to cover hundreds of millions by the middle of the next decade, more than anyone else on earth. China will almost certainly be the first to 10M 5G subscribers. China Mobile is among the world leaders in true 5G and expects to upgrade 1% of their million+ base stations by 2010 with mmWave. China Mobile Research is among the best in the world.
But the SCMP projection, "The mainland will have 588.3 million 5G subscribers by 2022, about 39.9 per cent of total mobile users nationwide in that year," could not be met by any plausible deployment of mmWave, Massive MIMO or anything with significantly more capacity than LTE.
Instead, the primary Chinese sources are probably including things like 3.5 GHz as "5G." The Chinese fiber deployment was incredibly fast but I can't imagine anyone building that much mmWave or Massive MIMO in three years.
Marketing people and lobbyists around the world want to claim 5G, so they are redefining it to be a meaningless term by including something that delivers 4G performance. Making a small software tweak - the new line code - to 4G style gear doesn't justify a claim of a new generation. The pr is overwhelming; intelligent people like Angela Merkel are being bamboozled for now. There's probably no going back to something substantive. But MIIT, Vodafone, and all the vendors shouldn't be believed when they claim "revolutionary benefits" from a modest software tweak.
$400B is an incredible number, but actually reasonable for estimates ten years of Chinese capital spending. The three companies have spent as much as $60B/year and MIIT's forecast is for ten years. The most expensive 5G tech, mmWave, is projected at $200-$900 per family covered. Covering a billion Chinese will cost $200B or more unless prices come in much lower than expected.
There's hope that the cost will be lower. Verizon reports they are getting about twice the expected coverage, even without line of sight. That drastically reduces the number of cells needed. Seizo Onoe of DOCOMO estimates that 5G will actually prove cheaper than 4G and capex will not rise. Computer controlled beamforming seems to be working remarkably well and there are hundreds of smaller advances.
In the last four months, mmWave has gone from promising to almost certainly practical, with CJK & Verizon ready to spend 10's of $billions.
I now read South China Morning Post http://www.scmp.com/technology/china-tech regularly, even if my take on this story is different than theirs.
China set to build the planet's largest 5G mobile network for US$180b
The mainland's spending on 5G infrastructure will be nearly four times larger than nearest Asian competitor Japan over a seven-year period.
PUBLISHED : Monday, 12 June, 2017, 6:06pm
UPDATED : Tuesday, 13 June, 2017, 9:28am
Total spending on 5G infrastructure by mainland China's three telecommunications network operators is forecast to reach up to US$180 billion over a seven-year period, dwarfing their estimated US$117 billion investment in 4G from 2013 to 2020.
That would represent about a 48 per cent increase in total capital expenditure by China Mobile, China Unicom and China Telecom from their combined outlay on 4G, said Jefferies equity analyst Edison Lee.
It would also surpass spending in Japan, where the total 5G outlay was forecast to hit US$46 billion over the same seven-year mobile technology cycle. Japan is the world's second-largest market for information technology goods and services behind the United States, according to Forrester Research
"The impact of 5G on innovative consumer and business services on the mainland will be significant, as all three telecommunications network operators will likely build out aggressively from 2019," Lee said.
The impact of 5G on innovative consumer and business services on the mainland will be significant
As the latest advance in mobile communications, 5G denotes a new era in which networks will adapt to applications, and performance will be tailored precisely to the needs of the user, according to global telecommunications trade body the GSM Association.
The International Telecommunications Union, the United Nations agency overseeing development of the IMT 2020 standard for 5G technologies, has said the upcoming universal specification will support a million connected devices per square kilometre; 1 millisecond latency, or the amount of time a packet of data takes to get from one point to another; higher energy and spectral efficiency; and a peak data download rate of up to 20 gigabits per second.
China Mobile, the world's largest mobile network operator, announced plans in March to start building trial 5G networks in major mainland cities from next year and launch full commercial services in 2020.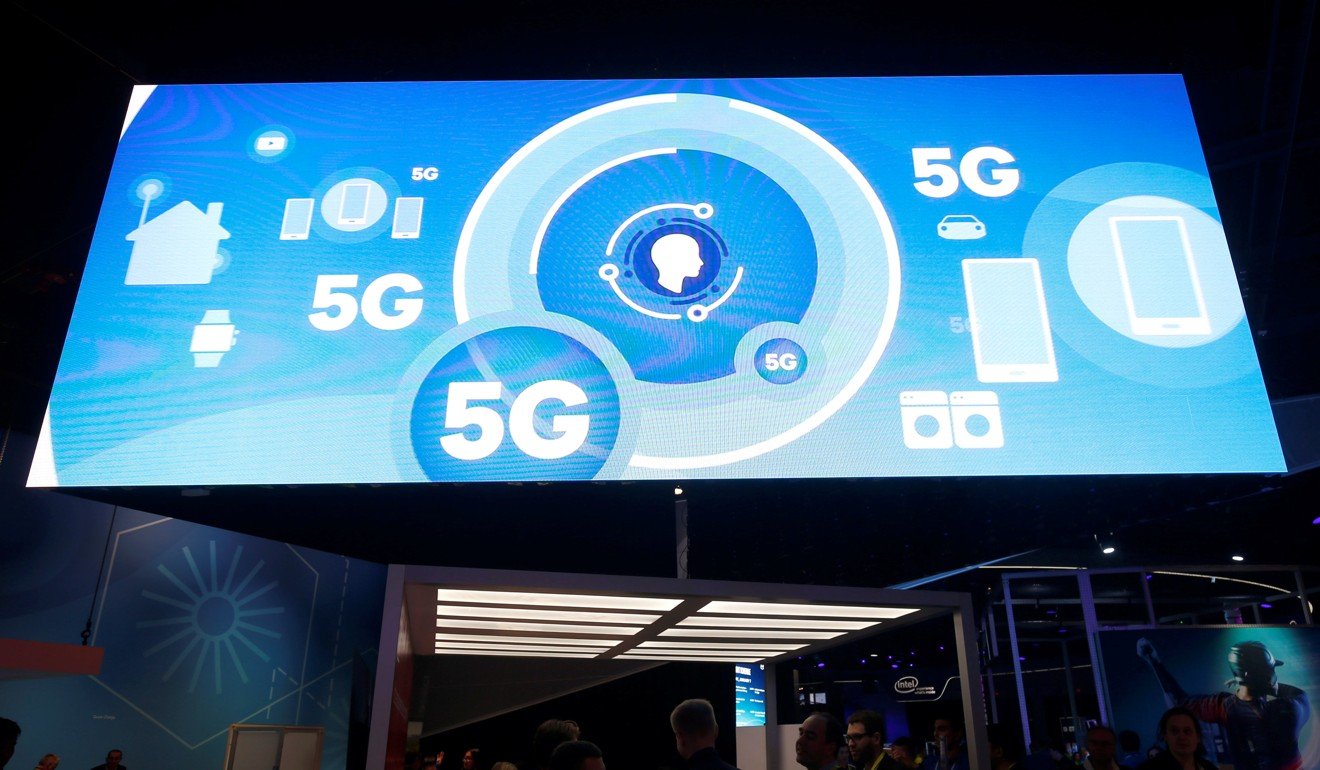 Lee said the predicted higher capital spending by the mainland network operators on 5G will be driven by a number of factors. Domestic 5G networks will initially be on the 3-gigahertz to 5GHz spectrum bands, which will require more base stations to provide the same coverage as 4G at present, he said.
In addition, all three mainland network operators are expected to swiftly push for nationwide coverage, with China Mobile likely to achieve that goal by 2021.
Jefferies predicts that the mainland will have 588.3 million 5G subscribers by 2022, about 39.9 per cent of total mobile users nationwide in that year.
"The major Chinese internet companies, Baidu, Alibaba Group and Tencent Holdings, will lead the way in introducing advanced consumer services based on 4K and 8K video, as well as augmented and virtual reality technologies, on the new 5G networks," Lee said. New York-listed e-commerce giant Alibaba owns the South China Morning Post.
"Smart city initiatives will take advantage of the 5G networks to make use of artificial intelligence for public security, traffic management and disaster management," Lee said.